Welcome to the Pioneering Research Data Exhibition Blog – DATA-X.

A showcase of Postgraduate research
Are you a postgraduate research student, an innovator or interested in interdisciplinary collaborations? The DATA-X Pioneering Research Data Exhibition provides a dynamic platform for University of Edinburgh researchers across all Schools to join forces and present their work to audiences from within and outside the university.
As researchers, we are continuously producing data in a myriad of forms. The ways in which our data are captured, organized, interpreted, presented and stored are often invisible and complex to comprehend to the public and our peers. Evolving technologies and data-rich, researcher-driven environments provide new opportunities to share, publish and communicate research results. This broadening of access to and availability of research data can be used to engender new research ideas and open up avenues for collaboration, further leveraging the value of a research investment.
The DATA-X exhibition aims to demystify the world of research data through diverse, dynamic and data-driven 'installations' and explore how data is transforming our world. Through collaborative data 'installations' you will bring your research and data to life. The 'installations' are aimed at impacting the public and your peers directly through a creative exhibition. 'Installations' can take the form of hand on demonstrations, digital sculptures, simulations, performances, interactive exhibits, 3D structures, machinery, visualisations.. You are only limited by your imagination!
All University of Edinburgh postgraduate researchers at any stage of their degree, and working in any subject area were invited to participate
1. Workshops
A series of 'engagement' workshops were held to inform and shape the exhibition. The DATA-X workshops aimed to bring together researchers to form dynamic multidisciplinary teams to produce new 'installations' linked to digital research data objects. Research groups were encouraged to explore synergies in a supportive, interactive and fun environment to find new ways in visualizing, materializing and communicating their research data that is both accessible and inspirational for peers and to non-experts audiences. Workshops also afforded the opportunity to network and collaborate with peer researchers from across the university and earn micro funds towards your multidisciplinary 'installation'.
The first workshop was held in the School of History, Classics and Archaeology, Old Medical School Building on 18 May 2016 for research students to get involved in shaping, collaborating on and delivering exciting and innovative multi-disciplinary data 'installations'. A second workshop was held on 15 June on the King's Buildings campus, and a third in the McMillan Room, School of History, Classics and Archaeology, Old Medical School Building, William Robertson wing (Teviot Place).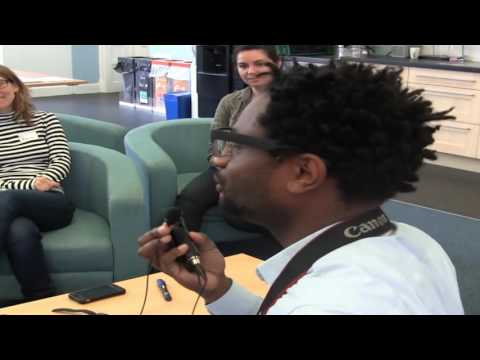 2. Exhibition Launch & Publication
The DATA-X exhibition will showcase innovative research data installations and demonstrate cross-disciplinary outcomes that will act as tangible research outputs in their own right. Research teams worked over the summer and autumn to construct their 'installation' and with a view to presenting research outcomes at the Pioneering Research Data Symposium i where researchers can present and demonstrate tools and technologies, processes and techniques behind the data installation. This event will be informal and an open forum to facilitate discussion with a range of academic and non-academic audiences. The DATA-X Exhibition itself will run from 28 Nov. – 6 Dec. 2016, after which the Data-X team will publish an exhibition catalogue as record of the initiative.
Project Management
DATA-X, funded by the Information Services (IS) Innovation Fund, will be managed by the Data Library, a service that provides local researchers with support for finding, accessing, using and managing research data. Exposure to both research workflow and resultant output will inform both Data Library and broader Research Data Service initiatives about diverse Research Data Management (RDM) practises and how future services can be developed and tailored to meet university, funder and researcher needs.